Have you ever found yourself looking for that perfect sky gradient?
Are you depressed because you just don't know what to put in the background with those spandex clad, improbably endowed, crayola hue'd characters that you slave away your life to render every single day?
Have you ever said to yourself "But I can't remember what a real sky looks like"?
Well, [sir/madam] have I got a deal for you: I have here a collection of Photoshop gradients made from a variety of sunset/sunrise pictures of my own taking.
Smoggy, hazy, clear, off angle, reverse angle, early, late -- I've got em all.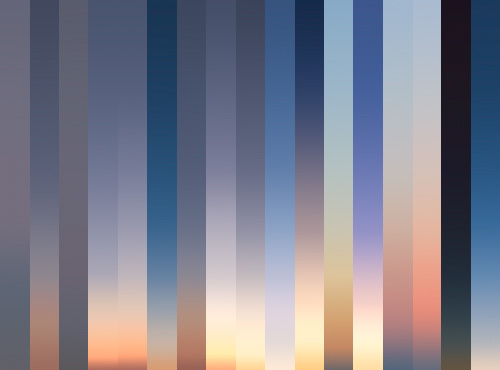 This gradient file works for all platforms, Photoshop versions 6 and above, and is defined using scientifically formulated LAB colors -- so they look good in any color mode and profile.
And for a limited time, this marvel can be yours for a mere click of a button:
http://chriscox.org/Sunsets.grd.zip
Click now! Operators are standing by.
* No pixels were harmed in the making of this file.